Find best Istanbul investments here.Istanbul property is currently offering some of the best investment opportunities in Europe with low risk and high growth which is based on solid facts of supply and demand, population growth and availability of finance. It is also emerging as one of the world's richest cities, and home to the fourth highest number of billionaires. Invest in Istanbul and reach high yield property ,apartments,houses and commercial real estate in Istanbul Turkey

Investment Property in Istanbul
Istanbul has been compared to some of the most modern cities in the world, yet still retains it's traditional charm as well as a mixture of different cultures given that its the only city that spans two continents.  Home to a population of around 15 million, Istanbul covers twenty seven districts and is the 3rd largest city in the world.  Located on the Bosphorus Strait, which divides the European and Asians sides of the city, it also encompasses the Golden Horn Harbour. Any one of these districts on either the Asian or European side, provides excellent investment for buyers of property in Istanbul.
No longer the capital city it once was in its 8,000 years of history, Istanbul is still a major port and trade center and posesses a high number of schools, universities, libraries, cultural centers, monuments and artifacts of the Byzantine and Ottoman Era. Istanbul possesses flavours from European, Mediterranean and Middle Eastern cultures making it one of the most exciting cities on earth to visit.
A rising star on the property market, Istanbul has everything to offer in terms of excellent infrastructure, stylish and modern housing, and a wide range of architectural designs.
Istanbul property is currently offering some of the best investment opportunities in Europe with low risk and high growth which is based on solid facts of supply and demand, population growth and availability of finance. It is also emerging as one of the world's richest cities, and home to the fourth highest number of billionaires.
Official figures reveal that there is a huge under supply of property in Istanbul with an estimated shortfall of 250,000 units per annum in Istanbul. It is not anticipated that supply will meet demand until 2018. For this reason, amongst many others, the city stands out as a prime property investment area and with apartments for sale in Istanbul from less than $50k, it is well worth thinking about investing there now.Please check our investor case studies in Istanbul Turkey
The Turkish government has instituted plans to revolutionise the way people live in and move around the currently overcrowded city and key to this is the creation of new overflow suburbs, or 'Satellite Towns', which will become the future residential heartlands of Istanbul offering a range of luxury villas and apartments with fanastic leisure facilites.
It is properties in these areas that are considered to offer prime investment potential. Major new transport routes are joining these outlying suburbs to the rest of the city and these areas are becoming highly desirable by the wealthy middle class masses providing a greener and less stressful environment in which to raise families without forsaking the leisure, shopping and recreation facilities normally only found in cities.
Istanbul investment property for sale in these 'Satellite Towns' is already proving very attractive to local buyers and foreigners alike. With facilities such as swimming pools, sports facilities, landscaped gardens, fitness centres. spas, shopping centres and wide open spaces compared to the cramped living conditions in the city itself, it is hard to overstate the value of such prestigious developments in Istanbul.
Investment Property For Sale in Istanbul
65.000 $
We would like to recommend you best mixed use off plan apartments,residences,hotel suites
...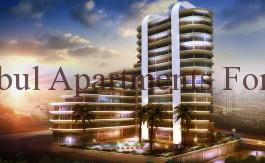 78.000 $
Excellent Rental Guarantee Hotel Apartments to Buy in Istanbul High Yield 5 Star Hotel Sui
...
84.000 $
Perfect Investment in Istanbul Hawtorn Suites Excellent hotel apartment investments in Ist
...