Beauties of Istanbul Emirgan
This is one of the most charming of the Bosphorus suburbs and is centred on a lovely main square with tea gardens that sit under the shade of old plane trees.

History
Originally the suburb was known as Emirgune after Emir Gune who was an Iranian nobleman that had surrendered the castle of Yerevan, now in Armenia, to Sultan Murad IV without putting up a fight. As a reward for this the Sultan brought him to Istanbul renamed him Yusuf Pasa and gave him the Feridun Bey Gardens that are today the 500,000 square metres of the Emirgan Woods. They remained good friends and often drank to excess in the gardens, but unfortunately after Murad died, his successor Ibrahim the Mad had Yusuf executed. The Istanbul authorities purchased Emirgan Woods in 1943 and turned them into the park you see today.
Places to Visit in Emirgan
Emirgan Woods
The Emirgan Woods, which was once the recreational grounds of the Egyptian Khedive Ismail Pasa, is today a public park and lake and has a 19th century mansion housing three cafes. Khedive Ismail Pasa actually commissioned Guiseppe Verdi to compose the opera "Aida" in celebration of the opening of the Suez Canal in 1871. Spring is the best time to visit when the park is full of tulips and becomes one of the most beautiful sights to see in all Istanbul.
The Pavilions
Yellow,White and Pink Pavillions   You can try open buffet Turkish breakfast with reasonable prices.
Emirgan Square
Emirgan Restaurants
Things to do in Emirgan
Tulip Festival
The tulip festival has been taking place in Emirgan Woods for many years and in 2006 the Istanbul authorities expanded it throughout the city thus making visitors aware that tulips originated from Turkey and not Europe. Millions of bulbs are planted every year and in mid-April all sorts of exhibitions, concerts and other events are planned to coincide with their flowering. The beds of flowers are planted so densely they resemble Persian carpets and the smell of thousands of sweet perfumed hyacinths fill the air.
Property For Sale in Emirgan
Emirgan is one of prestigious area in Bosphorus Istanbul.It offers lifestyle luxury villas and traditional style houses.If you wish to buy real estate in Emirgan please ask to our sales team exclusive homes in Istanbul
How to get Emirgan
There is an irregular ferry service that links Emirgan with Kanlica and Anadolu Hisari ( or Anatolian Fortress ) (Tel. 0212 444 4436 www.ido.com.tr) or you can take Bus Nos. 22 or 25RE from Kabatas or from Taksim take Bus Nos. 40, 40T and 42T and alight at Emirgan.
Article Information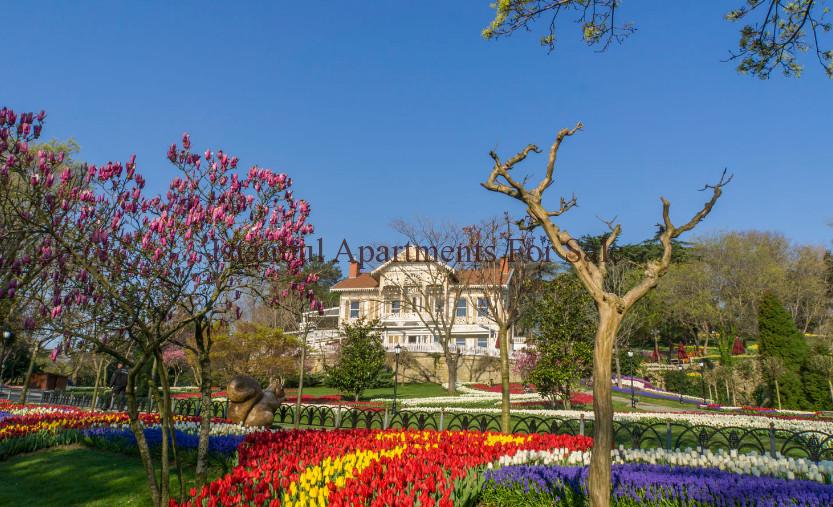 Article Name
Beauties of Istanbul Emirgan
Description
This is one of the most charming of the Bosphorus suburbs and is centred on a lovely main square with tea gardens that sit under the shade of old plane trees and look beautiful Tulip gardens
Author
Publisher Name
Istanbul Apartments For Sale
Publisher Logo