The biggest city in Turkey Istanbul , acquires its recognition from ancient times. The richness  and importance of the city specify from the history and cultural heritage. The joining point of both  European and Asian continents , therefore both civilizing advances can be observed  here.  Istanbul's reputation has been increasing since the World War II, as it has become one of the heavily  popularised cities in the world. Istanbul real estate market  has influenced  plentiful  foreigners to Turkish land , hence schooling in international education standards have been established for the foreign children. The main international educational schools are as follows.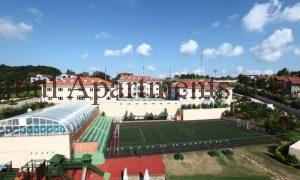 Istanbul International Community School:
The school consists of two campus. The first is the Hisar Campus close to the Bosphorus in Rumeli Hisar. It is for preschool children to 3rd grade at the ages of 3-9 years old. The second  is the Marmara Campus which overlooks  Buyukcekmece Lake, this is  for children aged 3-18 years old  from preschool up to 12th grade . A private and coeducational school. It offers all three International Baccalaureate programmes in English. It is accredited to CIS (Council of International Schools).
MEF International School in Istanbul  & Izmir:
MEF International School is mostly for foreign families who look for the best education for their children. Children  from the ages of  3 to 18 are educated  here. The school supplies a first class English-medium international education, integrated  by  French, Spanish and Host Turkish Country Studies. The School's main focus is on students assembling  meaning,  becoming inquirers and being eager about discovering knowledge on their own.
The British international School  Istanbul:
The British International School Istanbul  is worldwide known  for the educational teaching  it provides. It is a outstanding private international School in Turkey. It presents a modified English National Curriculum. The school is coeducational , children from 55 countries study here.  Children from  the ages of 2 ½ to 18 years old are given admittance in this school. The languages taught here are German, Spanish, French and Turkish while English is learnt as the second language. Extra curriculum activities such as Music, Theatre and Visual Arts are also included in the educational lessons. The school has two campus divided  for pre-schooling and other for primary and secondary grade.
Keystone International Schools  Istanbul
This is a significant and recongnized  international school in Istanbul and it offers education for Pre-Kindergarten , Kindergarten and Primary school  from grades 1 to 6 .  English, French, German and Turkish are taught here.
Some of the International Schools  which specialise in Preschool and Kindergarten only are available in Istanbul. These schools  provide exceptional teaching in both English and Turkish for the children. They are as follows
Bosphorus International Preschool Istanbul:
The English School of Istanbul
The International Preschool & Kindergarten
Atolye Preschool, Istanbul
Eden's Garden International Preschool, Istanbul
There are Plentiful  schools  available around Istanbul to teach and educate children in International standards. Istanbul is a flourishing city and it provides excellent  opportunities for foreigners to develop a healthy life style.  The Istanbul real estate business is also excelling with enough  land and housing  attainable for the newcomers to settle in this enjoyable city.